The Well Pet Clinic is a locally owned and operated affordable veterinarian care and low cost neutering and spaying pet clinic. The Well Pet Clinic is located in the Southern Maryland county of St. Marys in Lexington Park, MD.
We are in the Millison Plaza off of FDR Boulevard just beyond the movie theater. In addition to the services listed above, Well Pet sponsors the Animal Relief Fund adoption days.
About Us
The need for affordable care and low cost neutering for the many pets of Southern Maryland St. Mary's county area was addressed when The Well Pet Clinic opened in May of 1997. After years of working in shelters and doing animal rescue, it became clear to Kathy and Irma Delozier, our owners, that to slow the flow of animals into our shelters we must address the overpopulation issue.
Dr. Nancy Knight, D.V.M. is our routine appointment veterinarian.
Services
The Well Pet Clinic is a full service Clinic offering the latest in medical and preventative health care services:
| | | | |
| --- | --- | --- | --- |
| | Neutering | | Puppy and Kitten Care |
| | Urinalysis | | Spaying and Neutering |
| | Vaccinations | | Nail Clipping |
| | FIV/ FELV Testing | | Heartworm, Tick and Flea prevention |
Yearly Adult Dog and Cat Exams
Yearly care for adult animals include physicals, vaccinations, heartworm check & prevention for dogs, and fecal exams. Lyme's vaccine and rabies vaccinations are also available here.
Surgeries
Appointments for surgeries are available on Tuesdays and Wednesdays. Appointments for routine vaccinations and other minor health concerns (ear or skin infections, etc.) are available Mondays 9am - 2pm, Thursdays Noon - 7pm, and two Saturday mornings a month. All visits require an appointment.
Surgery Fees (start at the following):
| | | |
| --- | --- | --- |
| | Dog Spay | $110.00 |
| | Dog Neuter | $90.00 |
| | Cat Spay | $60.00 |
| | Cat Neuter | $40.00 |
Additional Surgeries with above are:
| | |
| --- | --- |
| | Inguinal Hernia |
| | Deciduous Teeth |
| | Dewclaws |
Supplies
Well Pet Clinic carries great selections of pet food and supplies, including:
| | |
| --- | --- |
| | Chew toys |
| | Nail Clippers |
| | Dental Care Products |
| | Science Diet dog & cat food |
| | Flea & Tick Control by Frontline, Advantix, Omnitrol |
| | Hills Prescription Diet dog & cat food |
| | Heart Worm Preventative by Heartgard Interceptor and Iverhart |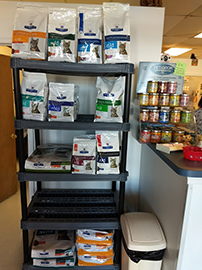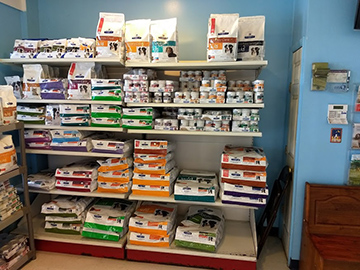 Animal Relief Fund
In addition to the above services, The Well Pet Clinic sponsors the Animal Relief Fund, our 501C3 non profit animal rescue. Adoption days are every Saturday from 11am - 3pm. Please visit or call the Clinic for your pet needs. To preview our available pets, Click Here.

To see other pets available for adoption, Click Here.

Our primary concern is affordable preventive pet care which helps people keep their pets.

Well Pet highly recommends spaying or neutering your pets.

The pet population is a serious problem.

Low Cost surgeries help towards solving this problem.
When you need Pet Care Services, call The Well Pet Clinic First!
21800 N. Shangri-La Drive Unit 16 • Lexington Park, Maryland 20653
Phone: 301-866-0303
The Well Pet Clinic serves St. Marys County MD and the following areas: Abell, Avenue, Budds Creek, Sandgates, Hermanville, Beachville, Bushwood, California, Callaway, Chaptico, Charlotte Hall, Clements, Coltons Point, Compton, Dameron, Drayden, Great Mills, Helen, Hollywood, Leonardtown, Lexington Park, Loveville, Maddox, Mechanicsville, Morganza, Park Hall, Patuxent River, Piney Point, Ridge, Scotland, Oraville, St Inigoes, St Marys, St Marys City, Scotland, Tall Timbers, and Valley Lee.